Yes, the Labels in the Calendar can be updated in another language. For that, navigate to the Configuration settings, and at the bottom of the page, you can see an option of Configure Language. 
Open the Configure Language tab and on the top, you can select the language in which you want the labels. You can see all the labels in the Language Configure tab. You can input the labels in your desired language in the box in front of every label.
You can configure the language of your choice by clicking on the Configure Languages button available on the Configurations page.
On the Language Configuration page, select the language from the dropdown that you wish to configure messages for.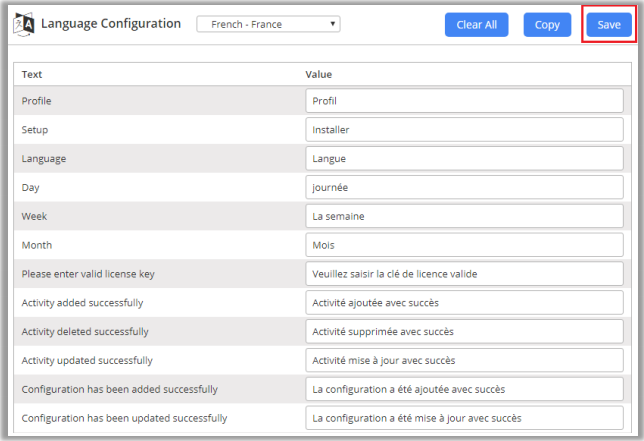 Here, the user needs to add translations themselves for the messages in the language of their choice.
Click on the Save button to save the language translations.
Note: For configuring languages, the user first needs to manage language settings from CRM. Languages that are selected in CRM can be configured for the calendar.
Multi-Language Calendar Labels
You can select different languages for the labels of the default CRM on Calendar365. 
Navigate to Settings → Personalization Settings → select the Language Tab. From here, select the language for the User Interface where you want to see the labels for Calendar 365.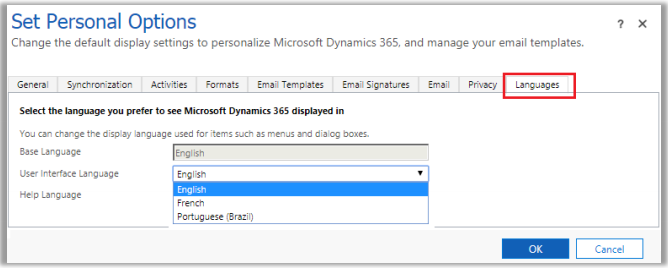 After selecting the language, click the OK button to save the settings. Now, you can see the labels in Calendar 365 as per the selected language.