To manage the default configuration settings for Admin users, click on the "Setup" tab. Now select the Default Configurations option. 
Admin users can set the default view of the map by configuring it from the

Default Configurations

option.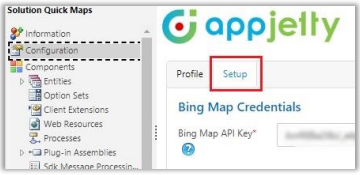 Bing Map API Key:

Enter Bing map API key which you have generated. 
Note: To assist you further, we have added a link beneath the text box that states How to generate Bing Map API Key.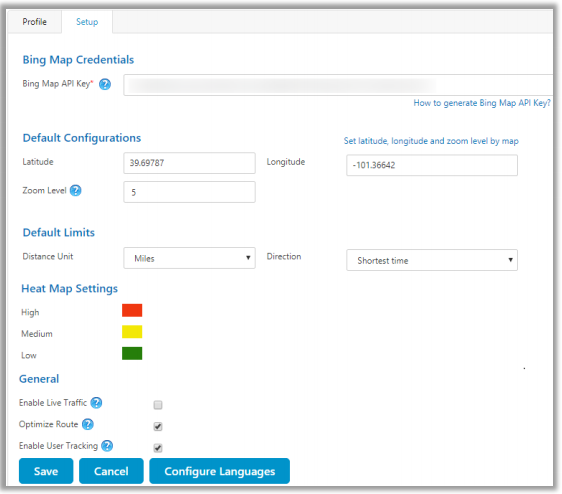 Under the "

Default Configuration

" option, you can set default Latitude, Longitude and Zoom levels for the map when it is opened for the first time. 

You can set the default location using the map as well by clicking on the "

Set latitude

,

longitude

and

zoom level

on map" option available on the right-hand corner. 

By clicking on it, the map will open in a new window. You can set the location by moving the icon as shown in the screenshot below.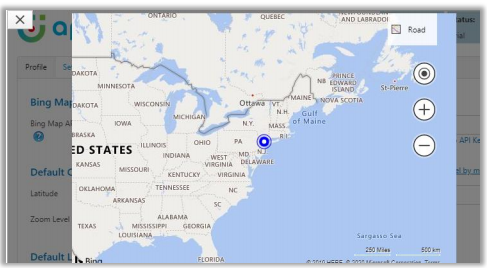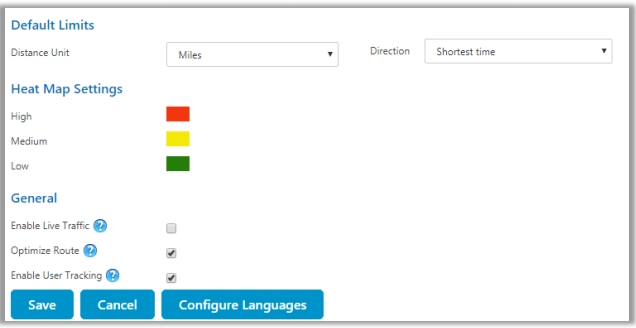 Set "

Default Limits

" for distance unit and direction. Distance units can be in Kilometers or Miles and Direction can be Shortest Time or Shortest Distance. 

You can also set colors for the "

Heat Map

" configuration, which would indicate the intensity of the data. i.e. High, Medium, and Low. 

A user can also enable/disable Live traffic on Bing Maps and Optimize the route using SPF (Shortest Path First) feature from the configuration. 

A user can enable/disable the Live User tracking feature from configuration to track users.
After configuring all the details click on the "Save" button to save the configurations.